Testing Highborn
A downloadable game for Windows
"World War 1 in Space" with a focus on dreadnaught type naval combat and ground troops in a dark and Mythic universe.
major issues...
oops... asteroids blow up when a lander lands on them.. in a big way.
sometimes the ship will be destroyed, and no way to quit game but to alt-tab out
the Aim is off somehow.. and I just realized why.. maybe.. nope, that's not it...
hitting the "Lander" button rapidly causes a crash.. investigating
Jan 30
instead of the whole game, I'll just put test stuff i'm working on in here
Today is working on the sliders... but I'm having a problem with my canvas layer in some sort of sort order fight with something else. .. and asteroids... working on Asteroids exploding, and landing troops on a small space rock.... I like my asteroids a lot, their gravity/mass doesnt' just vanish when they get destroyed but fades away over time.. like 2 mins or so. .. its a slow space simulation, slow naval combat... with ground troops.
my issue is somewhere here.. I know, casue the image keeps flickering and the buttons wont work when image is not displayed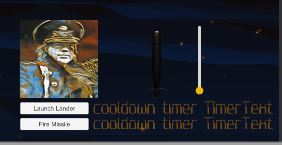 Download
Click download now to get access to the following files:
jan30testBUILD.zip
196 MB